Residential automatic sliding door operator : Win-slider
Residential automatic sliding door operator:Win-slider is a great for better hygiene applications. From the garage into the house, or internal bedroom and bathroom sliding doors. Win-slider system will fit to most existing or new internal cavity/pocket sliding doors. The system is consists of a motor device, electronic controller, and a low voltage DC power supply encased in an aluminum slim line housing. Your door is activated by the specially designed wall-mounted wireless push button switch that are installed on both sides of the door or window. (Also infrared sensors are available as an optional accessories).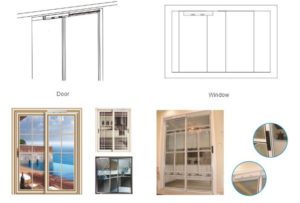 1)Easy Installation: designed to be a universal, easy DIY product that retrofits to your existing, free-running, residential sliding doors and windows.
2)Free For Your Pets: People no longer have to run up and down the stairs just to open the doors for your dogs!
3)Soulution When Hands Are Full: It's amazing how such a small solution can create such an ease in life when pass through with your hands are full.
4)Convenience When Entertaining: Installed easily and works well, appears to very nice designing.
5)Practical: Super quiet and powerful. More features and very versatile for integrating with access controller to home automation.