Electric swing door opener description
Electric swing door opener are ideal for low, medium and high volume traffic in many environments where a sliding door is not practical. It can be fitted on all kinds of swing doors made from steel, wood, glass and synthetic materials change a existing swinging door from manual to automatic operation.
The door can be activated by various options these include radar motion sensors, remote control or push button plus many other options and variations.
Heavy duty model SW200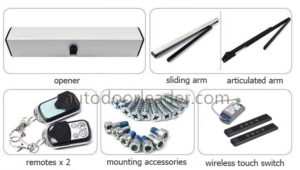 Electric swing door operator features
Excellent reliability passed more than 2 million cycles durability tests.
Automatic overload protection. Intelligent encountered obstacles protection, Intelligent over-temperature protection, Electric lock control function
Advanced brushless motor and worm wheel reducer are integrated, with lower consumption, energy saving, high efficiency, great torque and long life with low noise, easy installation.
The work parametres, such as opening/closing speed, hold open time, opening/closing angle etc. could be adjusted on the controller directly. It doesn't need a separate hand programmer any more.
24VDC 100W brushless motor, the motor transmission is simple and stable. The electric lock and access control accessories could be connected to the controller directly. It doesn't need separate 12V power supply.
Safety anti-clip function: The door will go backward when people or moving obstacles approach while closing, which prevents the clamp injury or damage of the door itself.
Push and go function: No need to push with force, turn K3 up to choose this function. This is very important for large crowds in public.
Manually open when power off. Optional backup battery can ensure the normal operation in case of power failure.
It has passed CE and ISO certificates. We provide 2 year gurantee. During the warranty period, we'll send replacement parts for free if the problem belongs to us.
Notice: the opener can only work properly after mounted on the door. Because it needs to find a closing position first. The motor will just keep rotatin slowly if you test it without mounting on the door.