Electric sliding door operator
A electric sliding door opener is a device that operates a sliding door for pedestrian use. It opens the door automatically, waits, then closes it. Automatic sliding door operator are essential in areas where easy access is required. Often described as sensor doors or entrances fitted with an automatic door opener, the type of door is dependent on a number of factors: space, usage, and footfall. Security, convenience, health and safety also need to be taken into consideration when deciding which automatic sliding doors best suit your requirment.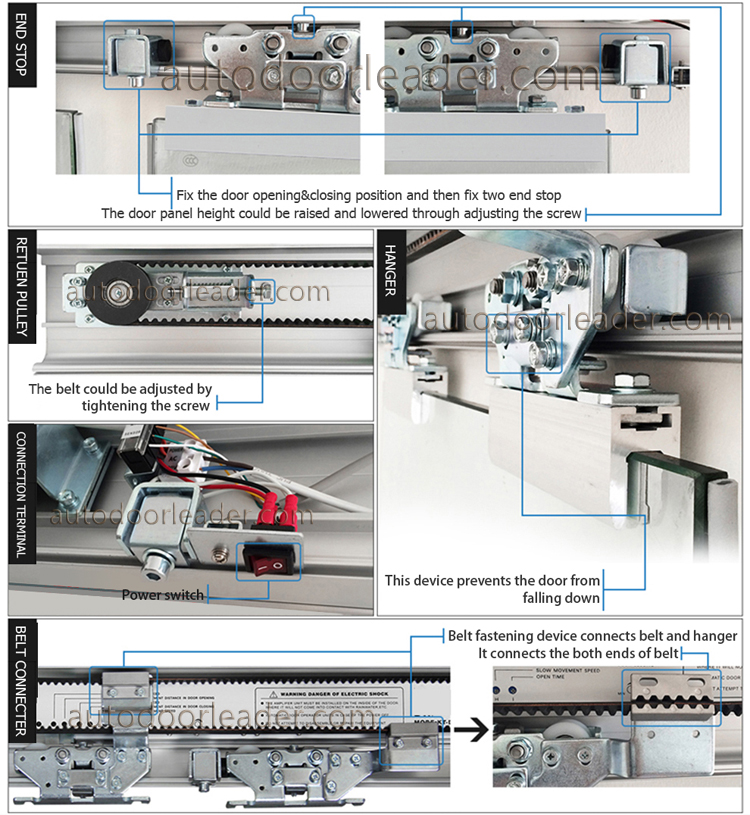 Electric sliding door operators description:
The control device of sliding automatic door contains basic function and extensional function, automatic operation/hold-open/closed/half-open to meet customer needs. Control device has multiple interfaces for choosing various connectors such as: safety beam photocell, electric locks, etc. Its drive devices adopts European technology to integrate motor with gear box, which offers strong driving and reliable operation and increased power output , it can adapt to a large door.
Reliability:
Wisdom miniature computer controller
Automatic door mind is totally microcomputer optimized. Internal signal loops adopt no contact control mode, even after longtime working, opening and closing movement is still accurate. Door leaf position setting and adjustment, slide distance setting and adjustment, door leaf opening/closing speed setting and adjustment is accurately controlled by microcomputer controller.
Security:
The door open immediately if encounter an obstacle.
When the doors is closing, if it meets a pedestrian or obstacle, the door leaf will reverse automatically, the door will open immediately, it prevents pinching events and door damaged ,also improves the automatic door working life.
Convenience:
If the electricity is failed, the door will stop moving. However, there is very little resistance, door leaf can easily be opened by hand.
Good modular design offers very easy installation. Only need to fit all components into the guide rail and connect each part well, it can work after activating the power supply.