Automatic swing gate operator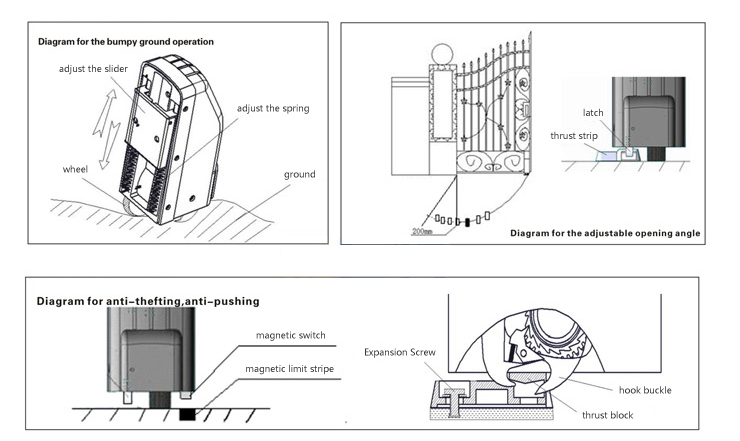 Automatic swing gate operator features:
Applicable to different environment: the model can automatically adjust the operation to adapt slightly undulating ground,as long as one people can drive this gate.
Adjustable opening angle:you can open the door to any angle without the limitations of the door itself.
Scientific installaion please install the gate motor in place which far away from hinge arm,due to in this case the arm is longest and with most effective force.
Scientiic self-locking structure: company have developed a newly proprietary technology for closed self locking mechinsim.which achieve driving, locking and emergency hand release in one mechanical intelligent product. then you don't make any addition mechancial and electronic locks.
Compatibility:automatic identifiction interfce with security systems,which can work with card reader,swipe card reader,video doorbell.
The advanced controller system:with microcomputer intelligent,humane control,high stability,with adjustable function for dely self-closing door,stop automaticlly when blocked,open the doorduring the closing the door at blocked.
Friendly-using:single button to drive the operation for single/double gate.
Anvanced security:the gate motor with 24V DC voltage which are safety,energy conservation and efficient ,the gate anti-theft,tamper,anti-push after closed and locked.