Automatic sliding gate opener description
Automatic sliding gate opener is ideal project if the ground where the gate is to be installed is uneven and can not allow a swing gate to be installed, because the gate leaves may ground. An automatic sliding gate would also be useful in a courtyard which space is limited behind the gate.
Sliding gate operator details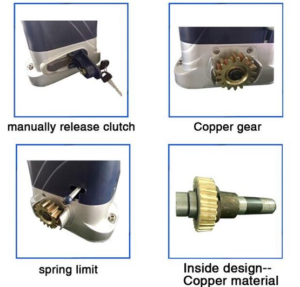 Manually release clutch: emergency open and close the gate like power failure
Copper gear motor: soft start and slow stop, for a long time working life, reduce noise and less problems
Spring limit: allowing the motor to switch off once the cycle is finished, Reliable mechanical Spring limit or Magnetic limit option.
Copper material: for a long time using
Our electric sliding gates features
*Soft start and soft stop,ensures the motor working steadily and smoothly
​*Intelligent operation: Stop/Reverse in case of obstruction during door opening/closing.
*Emergency release key for power failure.
*​Movement indication – the indicator lights up when the door is moving.
*Spring limit switch, the door stops when it moves to the limit.
* Open and close limits have a self-locking function.
*Low heating, slide running, protect from water and burst.
*Adjustable Auto-Close interval
*Overtime and overheating protection
*Dc type can put transformer and back up battery inside.
*Automatic close time can be adjusted from approximately 3 to 120seconds
*Note:Can be connected with Wi-Fi, control the gate by your smartphone. Can be connected with solar power.